$39 a month for one year provides
one orphaned child with a loving family!
You can impact the life of a child by mailing
a check payable to A FAMILY FOR EVERY ORPHAN,
PO BOX 34628 # 37939 Seattle, WA 98124-1628
or fill out the form to make a credit card donation.

Dedicate Your Donation
If you have a special purpose for your donation, you will have an opportunity to dedicate your donation to someone after your payment has been processed.


Rosemarie Adcock Prints
We're pleased to be able to offer donors limited edition prints of three Rosemarie Adcock paintings.
To qualify for the print, set up a recurring donation of $39 a month or more, or provide a one-time donation of $250 or greater.
The artist, Rosemarie Adcock, was born weeks after her family immigrated to the United States from Germany and Austria through Canada. She studied at the American Academy of Art in Chicago (1978-80) under Eugene Hall, an apprentice of the Russian painter, Alexander Zlatoff-Mirsky, who was himself an apprentice to the Russian master, Ilya Repin. She also studied at the School of the Art Institute of Chicago and the State Academy of Fine Arts in Karlsruhe. Her exhibition of over 120 paintings of Russian peasants toured in the United States and Western Europe for over 7 years. After the resulting acquisition of humanitarian relief assistance of over $1.25 million in gift-in-kind donations for orphans and impoverished Russian families, the artist founded the charitable organization, Arts for Relief and Missions in 1993.
Mother and Child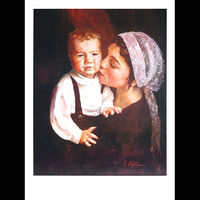 Child Reading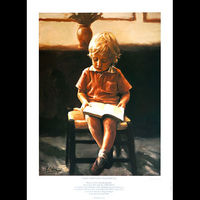 Romanian Girl's First Christmas